California Grillin Golden Gate Grind Steakhouse Seasoning
Regular price
Sale price
$9.99 USD
Unit price
per
Sale
Sold out
Golden Gate Grind Steakhouse Seasoning
Golden Gate Grind is loaded with garlic, red bell pepper, onion, sea salt and other exotic spices. Golden Gate Grind infuses flavors from up and down the state of California and works perfectly on beef, chicken, pork, fish, vegetables and can be used in your existing recipes to take them to the next level. Quite possibly the perfect seasoning for tri tip!!
The Golden Gate Bridge is an iconic structure spanning almost two miles across the San Francisco Bay. The bridge is believed to be the most photographed bridge in the world and was named one of the seven civil engineering wonders of the untied states. Construction on the bridge began in 1933 and concluded in 1937 and came in under budget by $1.3M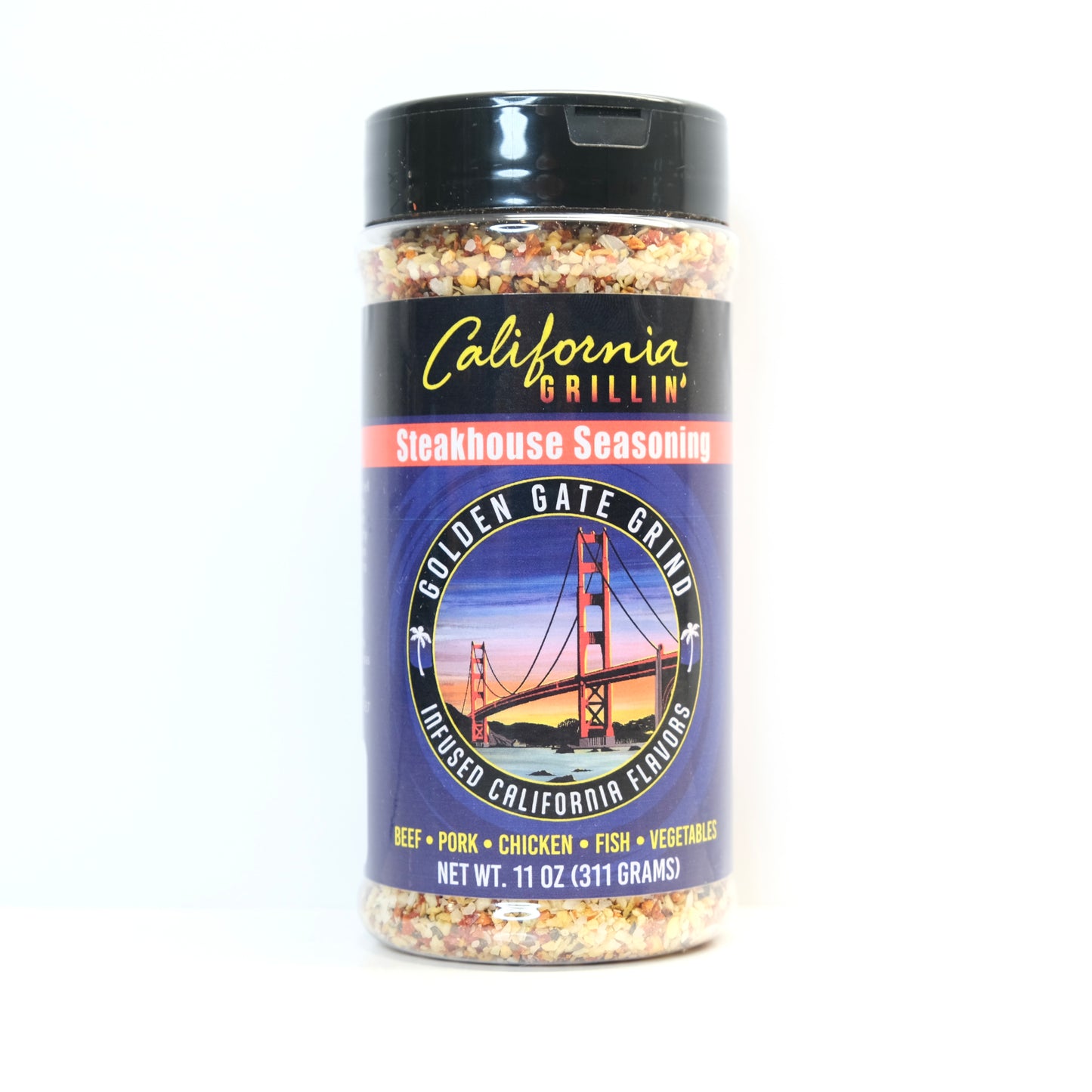 This is great on steaks. Can't wait to try it on fish and chicken.
Great Christmas Giftss
I love the packaging. I am using these for Christmas gifts so won't know how they taste other then my cousin Evan Emery telling me how wonderful they are. I am giving them to my son & brother in law as they cook at lot of barbeque and alwys looking for creative new things to try. I thought I ordered something with no salt/low sodium but I guess I didn't. You might want to come up with a low sodium or no salt seasoning for all us older people who are watching our salt intake and on bland diets because of it.
Once again California Grillin knocked it out of the park!
Once again California Grillin knocked it out of the park! Everything I have purchased has been absolutely amazing! The new Steakhouse Seasoning is perfect for my whole family and they absolutely love it!
Perfect Addition
I was super excited for this new seasoning to be added to the line up. It's larger grind allows for much bolder flavors and adds a bit of texture that other companies seem to be afraid of. That's why the mad scientist Matt and his lineup are so good though. He's not afraid to push boundaries and take you taste buds on a journey. This has been a game changer on wings and thighs, veggies get taken to an entirely different level and almost break out of the "side dish" zone because of it, and goodness don't get me started on beef cuts like tri tip.
Do yourself and everyone you cook for a favor and pick up a bottle now!
Best Seasonings
My family loves CG seasonings. We recently inherited an Oklahoma Joe Smoker and these seasonings are just what we needed to take our cooking to the next level. Gold Dust Rush and Route One BBQ are MUST HAVES!!