7 pack bundle California Grillin Seasonings
Regular price
Sale price
$64.99 USD
Unit price
per
Sale
Sold out
This grillmaster bundle includes all sseven of our signature rubs. 
California Grillin rubs and seasoning blends stand out for their excellence, flavor and versatility. Inspired by California's rich history of live fire cooking, wide range of culinary expertise and the regions far reaching flavor profiles. Each bottle is packaged in the USA and will make you the talk of every backyard cookout or BBQ competition.
1848 Gold Rush Dust is the perfect all-purpose seasoning for beef, pork, poultry, fish and vegetables. This precise combination of herbs and spices was developed so you don't have to worry about finding the right balance. Gold Rush Dust will provide consistent and delicious flavors you can rely on and pairs perfectly with other seasonings and rubs.
1848 Gold Rush Dust pays homage to the California Gold Rush. The California Gold Rush was sparked by the discovery of gold nuggets at Sutter's Mill, which was beside the American River on January 24, 1848. The territory would more than double its population within five years.

Route 1 BBQ seasoning pulls from California's boundless BBQ cooking history but also from regional flavors across the nation. This rub features the perfect balance of sweet and heat. Route 1 delivers that classic barbecue flavor and is perfect on pork, poultry, beef, fish and vegetables.
Route 1 Highway follows the Pacific coastline from Baja to the top of the Olympic Peninsula. The most scenic part is the 139 miles from Monterey to Morro Bay near San Luis Obispo.
Desert Heat's unique blend of Cajun seasonings and spices bring any dish to life with just the right amount of spice. So versatile that we almost called it an all-purpose!! Works great on beef, pork, poultry, seafood and vegetables as well as dishes that need that extra kick. Desert Heat Cajun seasoning while not to spicy will leave you looking for a cold beverage to quench your thirst.
Bull vs Bear was developed specifically for beef and red meat protiens. This beef rub is perfectly peppery and is full of bold flavor profiles. Bull vs Bear is the perfect seasoning for steaks and brisket but please don't stop there, we love it on burgers, chicken, pork, veggies and we have been using it as a critical ingredient in our chili recipe for years.
California was once home to over 10,000 California Grizzly Bears. Bull vs Bear fighting events were held as entertainment for crowds on many Sunday afternoons and are believed to be the source for the modern day phrase of Wall Streets Bull and Bear markets. The California Grizzly went extinct in the mid 1920s but its legacy lives on and remains a key symbol for the state of California.
Gold Rush Dust Spicy adds a spicy kick to our classic flavor.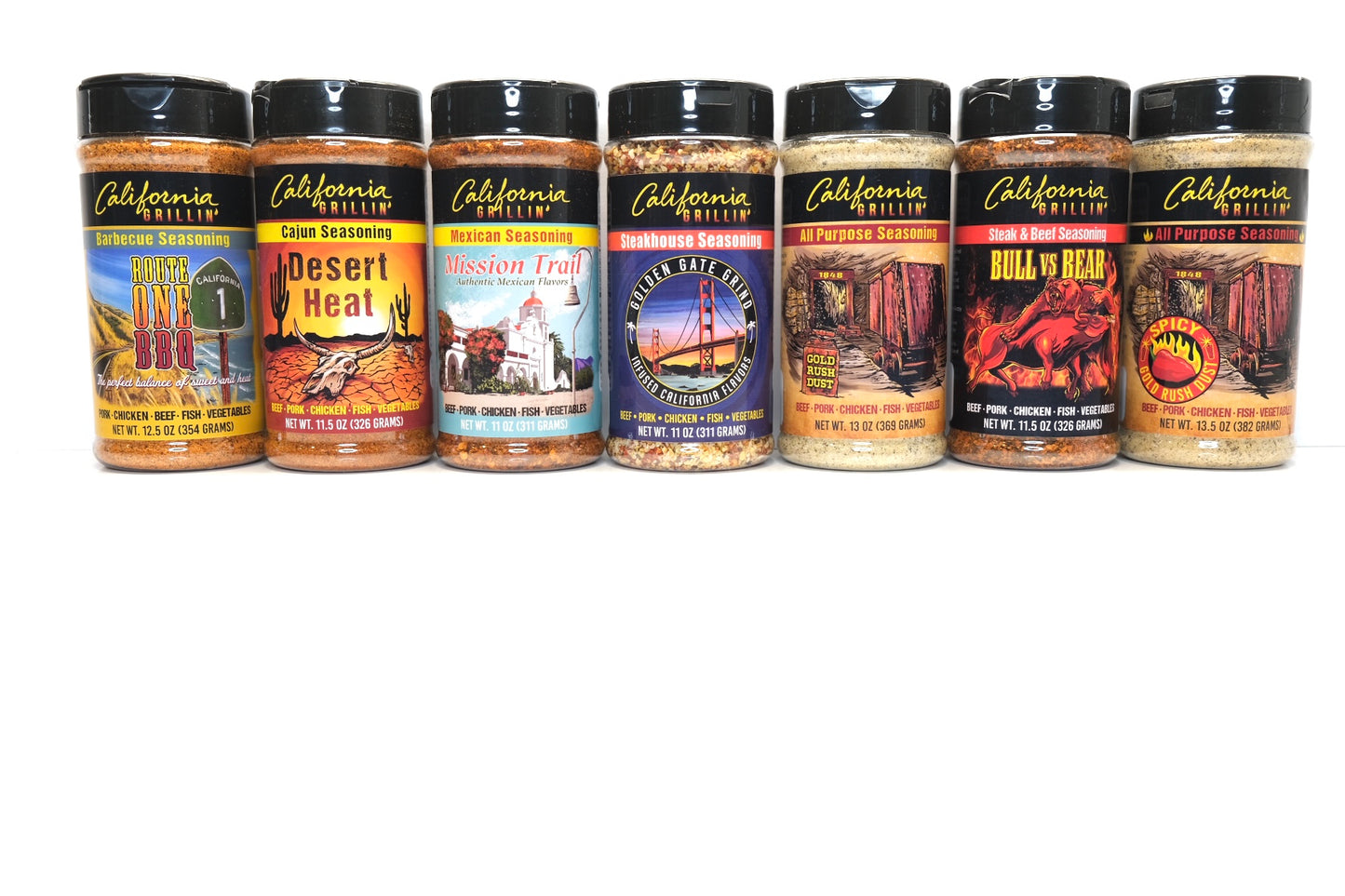 Great seasonings.
Saw these on TikTok and been following, love the recipes.
Delicious!
These rubs are delicious and the customer service is terrific.
Best grilling seasonings I've ever used!
We're retired and finishing up our dream deck which includes a Traeger grill. Our nephew came to do a sound & lighting system and got us 4 California Grillin' seasonings: Bull vs Bear, Desert Heat, Route 1 BBQ & Gold Rush Dust. The BEST SEASONINGS we've ever had! Really GREAT flavors & easy to use - they are a must have accompaniment to grilling‼️
These are some of the best in the business. I have experimented with over 20 different rubs and these are at the top of the list. Great for all purposes. All different meats, veggies, etc. My personal favorite is the "Gold Rush Dust". It's great on it own but it's also a great base layer. I usually Layer with the "Route One BBQ". That combination is a favorite in our house.
I highly recommend adding all 4 to the repertoire. You will not need another set. All bases covered right here!
The perfect blend for any food
California Grillin seasonings are the perfect blend for any food. Eggs for breakfast, chicken lunch or ribeye dinner these seasonings have any food covered. My favorite is Bull vs Bear layered with the Gold Rush Dust, it packs the perfect garlic flavor with a bit of heat that keeps you and your guests wanting more. The Route One BBQ offers a sweet flavor with a late spicy tingle that is like no other seasoning tasted.