California Grillin Desert Heat Cajun Seasoning
Regular price
Sale price
$9.99 USD
Unit price
per
Sale
Sold out
California Grillin Desert Heat's unique blend of Cajun seasonings and spices bring any dish to life with just the right amount of spice. So versatile that we almost called it an all-purpose!! Works great on beef, pork, poultry, seafood and vegetables as well as dishes that need that extra kick. Desert Heat Cajun seasoning while not to spicy will leave you looking for a cold beverage to quench your thirst.
Death Valley is the most well known desert in California and is known to be one of the hottest places on earth. Death Valley received its name during the California Gold Rush by prospectors who crossed it on their way to search for gold as many perished due to the extreme temperatures and lack of water.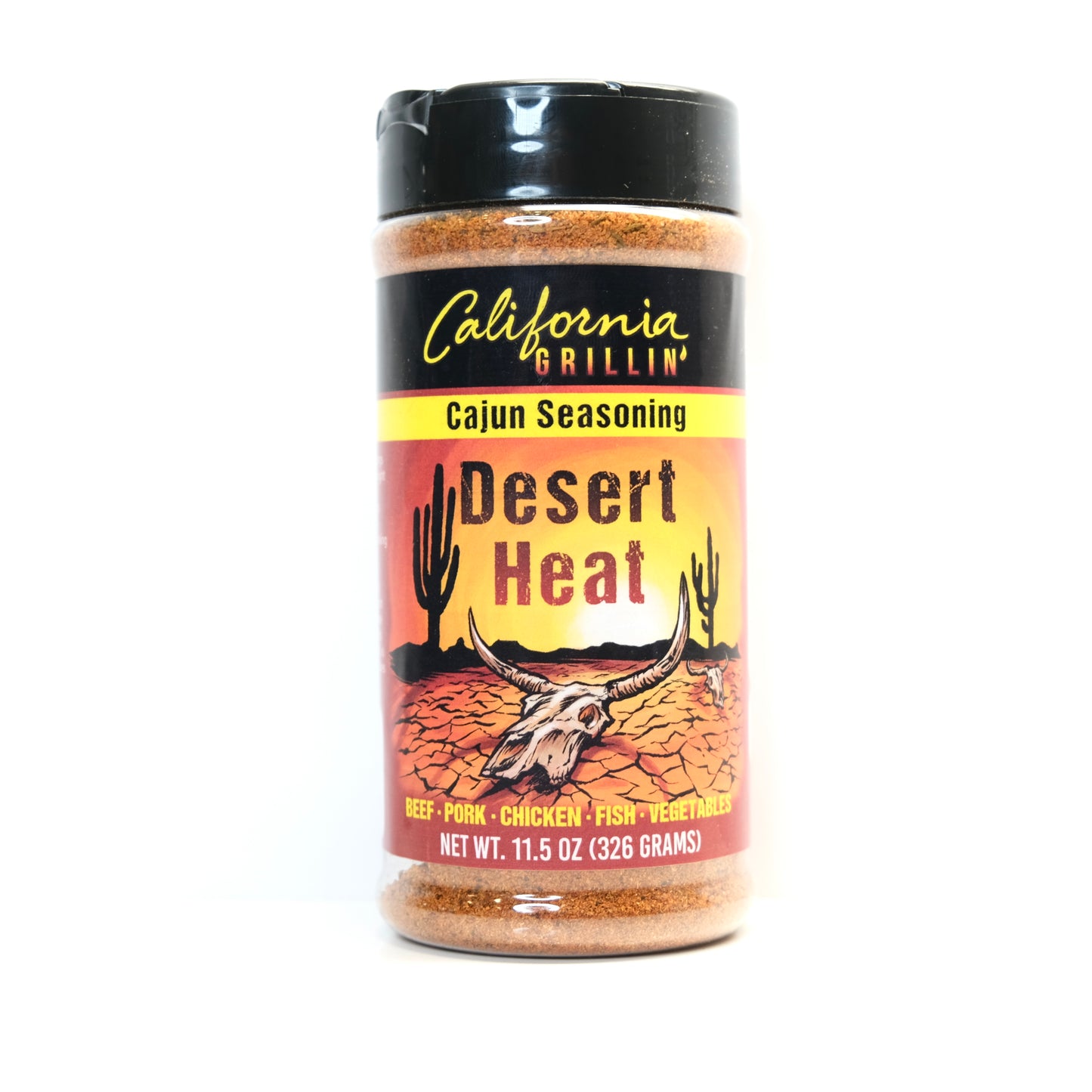 So good, on so many things.
We use this seasoning in just about anything, and it is one of my favorites. From wings, shrimp, sausage… to pastas and fries. We've even spiced up our Mayo for dogs and burgers. Knocked it out of the park with this one!!
Amazing rub great for whatever you want to cook!
I love this Desert Heat rub and so does my family! From smoking chicken and pork the heat is perfectly balanced with amazing flavors. We make homemade "Five Guys" fries with the Cajun rub and my kids love it. I will always have some in my cabinet for grilling, smoking, or baking!
Perfect Kick and Amazing flavor
I can tell you that this goes on nearly everything I make. Even a set of fries on fast food night gets the Cajun treatment. Must have for your wing recipe.
Perfect balance of heat and flavor
With most cajun or blackened rubs it seems like it's either too mass produced and lacks a punch//heat or burns the tongue out of your mouth. Desert Heat Cajun is a perfect blend of flavor and heat both at the initial bite and after. We have already used it on fish tacos, pulled pork (that also ended up in off the hook tacos) spare ribs, pork tenderloin and on veggies. What I appreciate about the entire California Grillin line is the salt content is not overpowering. Simply outstanding.
Perfect Cajun Rub
Have always loved cajun. This is better than anything we previously have had. It's not salty like other cajun seasonings we've had and has the perfect amount of heat. Great on steaks, chicken, wings, burgers, chops and veggies. Highly recommend.